Article
New 100-hryvnia note for 2015
Details

Published on

30 March 2015

Written by UPNS Admin
Hits:

4067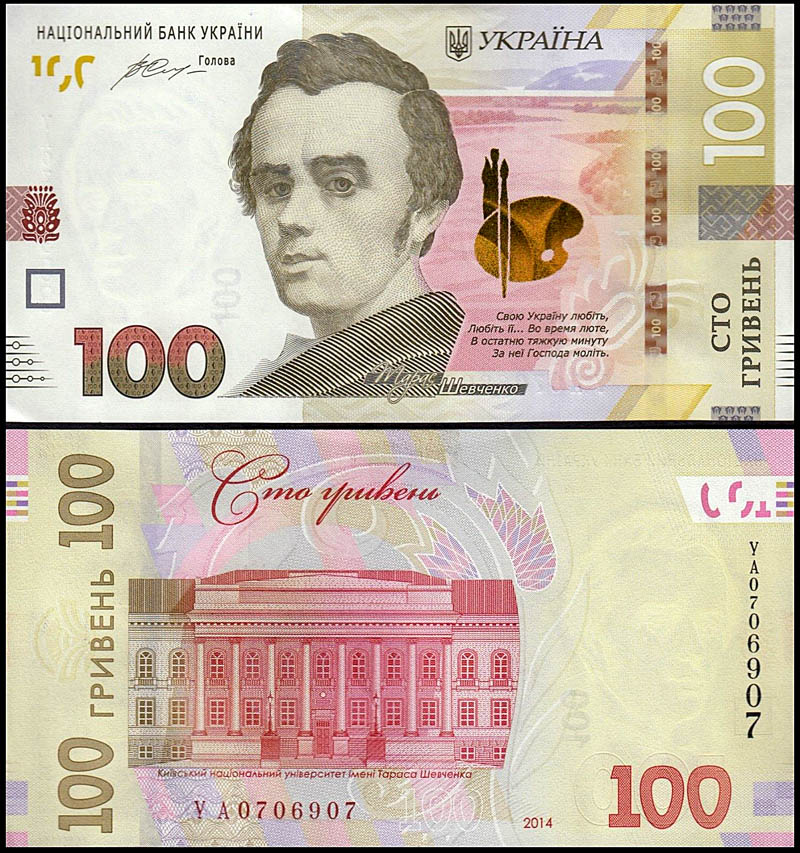 On March 9, 2015 the National Bank of Ukraine introduced into circulation a newly designed 100-hryvnia banknote with a number of advanced international security features, including a transparent 'window' and an optically variable SPARK feature which changes color depending on the viewing angle.
The new note is the dominant yellow-olive color as with the previous version of the bill and is printed on paper substrate containing a watermark of Taras Shevchenko and electrotype 100. The obverse features a portrait of Ukrainian national poet Taras Shevchenko, a painter's palette and brushes as a SPARK patch, and prose from his poem "Shall we ever meet again..." ("Чи ми ще зійдемося знову") written in 1838.
Love your dear Ukraine, adore her,
Love her . . . in fierce times of evil,
In the last dread hour of struggle,
Fervently beseech God for her.
The images have individual relief printing allowing them to be checked by touch alone. The signature is that of Valeriya Hontareva, Head of the National Bank of Ukraine.
The reverse shows the Taras Shevchenko National University building in Kyiv and the year 2014. The note also contains security features detectable by those with visual impairments, as well as those detected using Ultraviolet (UV) and Infrared (IR) light.
Deputy Governor of the National Bank, Jacob Smoliy, noted that the date of issuance of the notes - March 9, 2015 - coinciding with the anniversary of the birth of the outstanding representative of the Ukrainian people Taras Shevchenko. "It is symbolic that the presentation of the new banknotes 100 hryvnia, which, as in this denomination banknotes previous examples, a portrait of Taras Shevchenko is the very year the 200th anniversary of the birth of the Great Poet."
The new banknote is the result of a long term project begun in 2012 to replace the previous banknote series issued between 2003 and 2007.