Intro to Ukrainian Philately
Contents:
Although Ukraine has issued a few dozen new stamps every year since independence in 1991, there is actually a great deal more to collecting this fascinating eastern European country. During its previous brief experience as a sovereign state (from 1918 to 1920), Ukraine released a large number of philatelic items. In addition, during World War I and just prior to World War II, some portions of occupied Ukraine declared their independence, formed new governments, and issued stamps until they were absorbed into other political entities. Thus, there are also stamps of Western Ukraine, Soviet Ukraine, and Carpatho-Ukraine.Since the 19th century, stamp issues released by the various Ukrainian governments, both local and national, number over 3,000! The US Scott Catalogue only lists a tiny fraction of these: European catalogs tend to be more complete.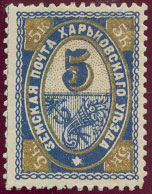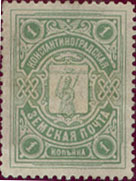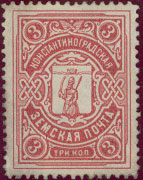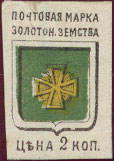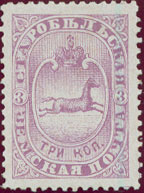 By the mid-19th century, Ukrainian ethnographic territories had been divided between the Russian Empire to the east and the Austrian Empire to the west. Postage stamps appeared in the latter empire in 1850 and in the former in 1857. In 1864, laws were promulgated in the Russian Empire allowing for zemstvo or rural local issues. From their appearance in 1865 to their discontinuance in 1917, about 2,500 zemstvo stamps were released. Of these, some 800 were issued in Ukraine at 39 locations. The first Ukrainian zemstvo stamps were circulated in 1866 at Verkhnodniprovsk, Katerynoslav Guberniya, and in Dniprovsk, Tauridia Gubernia - both now located in Dnipropetrovsk Oblast. Which locale preceded the other has not been determined.
Independent Ukraine
Eastern Ukrainian territory proclaimed its independence from Russia on 22 January 1918. By 18 April, a five-value set of currency stamps had been printed and released. Perforated 11 1/2 and printed on card stock, these stamps were used in place of coins because of a shortage of metals. Each currency stamp was inscribed on the back with a trident and the words (in Ukrainian) "circulates in lieu of coins." Such stamps were never authorized for postal purposes, but they do appear on some philatelic covers. Three months later, on 18 July 1918, the independent Ukrainian government authorized its first set of definitives, the Shahiv Issues (Scott 62-66), using the same designs as were used for the currency stamps.
The 10- and 20-shahiv stamps were designed by Antin Sereda (1890-1961) and the 30-, 40-, and 50-shahiv stmps by Yuriy Narbut (1886-1920), a master graphic artist and president of the Ukrainian Academy of Arts in Kyiv. Most were issued imperforate and remained in wide use until the end of 1920. (A very limited quantity were privately perforated and used postally.)
For the first seven months of its independence, Ukraine allowed postage stamps of czarist Russia to remain valid for postal use. By 20 August, however, the Ukrainian Ministry of Posts had ordered all postage stamps in use on Ukrainian territory to be overprinted with a trident, the national emblem of the Ukrainian state.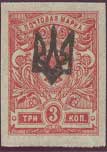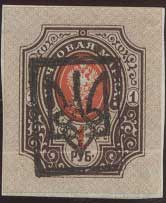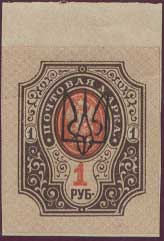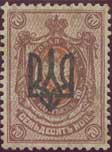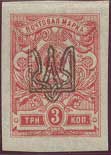 This action minimized Russian influence, provided stamps of higher denomination, and saved treasury funds. After 1 October 1918, all Russian stamps became invalid without the overprint.
At this time, Ukrainian territory was divided into six postal districts: Kyiv, Poltva, Katerynoslav (present-day Dnipropetrovsk), Kharkiv, Odesa, and Podillia.1 Each district utilized a number of distinct overprinting devices and so trident-overprinted provisionals came to vary in size, color, and form. To date, researchers have identified about seventy-five basic overprints with at least fifty variants, including some produced by local authorities. Since each overprint was applied to an average of 20 stamp values, the total number of different types of trident stamps is more than 1,500. Provisional trident-overprinted stamps remained in use for some time after the fall of the Ukrainian government. The latest authenticated date of usage is on an Odesa postal card from Pryvilne to Kharkiv dated 8 February 1926.
The study of trident overprints is the largest and most active field of Ukrainian philately. The specialty is hindered, however, by the number of forged overprints.2
By autumn of 1918, the Ukrainian Ministry of Posts had recognized the need for a wider range of postal values and according to some authorities, set about preparing a second definitive issue of five stamps. This set, made up of values greater than 50 shahiv, was to replace the trident overprint provisionals and supplement the first five shahiv vlues. When the supply of high-value trident overprint provisionals was exhausted in Volyn and Podillia, the Ministry released only the 20 hryven value (Scott 74)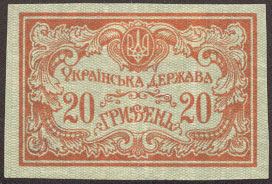 to ease the shortage. No other values of the second definitive set (reputed to consist of 1, 3, 5, and 10 hryven) were ever placed into postal use. According to some unconfirmed reports, the entire new supply was completely destroyed by fire when a plane carrying it out of Kyiv was shot down and burned.
Other researchers believe the Hryven Issue was originally intended as a fiscal stamp, but, due to the shortage of 10 ruble stamps in the Podillia area, it was released as a postal stamp. At that time, 100 shahiv equaled one hryvnia; two hryvni equaled one karbovanets, the equivalent of a ruble. (The values are one hryvnia, two to four hryvni, and five or more hryven.) Because of the 20-hryven stamp's high value, its use was limited primarily to prepayment of money transfer forms (postal money orders), particularly those for very high sums, and for parcel receipts.
On 26 August 1919, the Ukrainian Government-in-Exile, headquartered in Tarnow, Poland, authorized the preparation of a Courier Field Post Issue to serve the tens of thousands of Ukrainian military personnel quartered in several camps near the city. The new issue consisted of a 10, 20, or 40 hryven value and the inscription Kuriersko-Polova Poshta on each of the five Shahiv Issue stamps of 1918. In addition, a trial release of only 15 overprinted Hryven Issue stamps was prepared. This 40 hryven over 20 hryven value has emerged as one of Ukrainian philately's rarest stamps. Only two are still known, one on cover.
On the following day, 27 August, the Government-in-Exile resolved to replace all existing postage stamps then in use on Ukrainian territories with a new definitive issue. This 14-stamp set became known as the Vienna Issue and contained values from one to 200 hryven. Designs for the 1-, 2-, 3-, 5-, 30-, 50-, 80-, and 200-hryven vlues were executed by the prominent Ukrainian artist Mykola Ivasiuk. The remaining value designs were based on photographs of historic places and portraits of prominent historical figures. These stamps, printed by the Austrian Military Geographic Institute of Vienna, Austria, were completed towards the close of 1920. None of the stamps from this set were ever circulated postally despite published reports claiming otherwise.
1. Recent research has revealed that the Poltava Postal District was actually part of the Katerynoslav Postal District; it continues to be recognized as a distinct region, however, in order to retain the classification that has evolved over the years and to prevent confusion.
2. The Ukrainian Philatelic Society in Germany (UPV) diligently pursued and recorded these imitations between the World Wars. The Ukrainian Philatelic and Numismatic Society has carried on these efforts since its founding in 1951.
Recognizing the imminent defeat of Austria-Hungary and its ally Germany during the fall of 1918, the Ukrainians of Galicia (Western Ukraine) under Austrian rule declared and won their independence on 1 November 1918. To facilitate postal deliveries, Western Ukraine issued stamps as overprints of Austrian issues. In locations where stamps were released, the quantities were often fairly low, making many of these stamps quite rare (and expensive) today.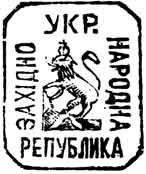 The first stamps appeared in Lviv on 20 November 1918. The Austrian 3-, 5-, 10-, and 20-heller stamps of 1916-17 were overprinted with an octagonal design which depicted a heraldic lion in the center surrounded by the inscription Zakhidno-Ukrainska Narodna Republika (Western Ukrainian National Republic).
In Kolomyia, 3-, 6-, and 12-heller Austrian stamps were overprinted with a 10-sotyk value, and the 15-heller stamp was overprinted five sotyks (Scott 1-4). In addition, a 30-sotyk registered mail stamp was produced (Scott F1).These issues were released 12 December 1918. On 14 January 1919, 50-sotyk registration stamps were issued (Scott F2)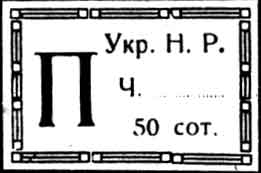 to accomodate a hike in rates. Both the four overprinted values and the two separately issued registration stamps were used extensively on mail.
Even after January 1919, when Western Ukraine merged with Ukraine proper, stamps continued to be overprinted in the western portion because of unsettled conditions. A series of Ukrainian overprints and surcharges on Austrian stamps also was prepared in Stanyslaviv (present day Ivano- Frankivsk). The First Stanyslaviv Issue appeared on 18 March 1919, and consisted of a set of 17 different Austrian stamps of 1916-18 overprinted with Poshta Ukr. N. Rep. (Post of the Ukrainian National Republic) and contained the name of the value in Ukrainian, either "shahy" or "hryvni" (Scott 11-28, 25a, and 26a).
The Second Stanyslaviv Issue, prepared 5 May 1919, consisted of 48 different stamps in four series with overprint text similar to the first issue (Scott only lists 37 stamps: 31-53, 57-58, and 61-72). Interestingly, the stamps in the first series of this Second Stanyslaviv Issue were printed on special Austrian stamps for Bosnia and Herzegovina from 1904.
The Third Stanyslaviv Issue, actually printed at the State Printing Office of Vienna, was released on 8 May 1919. This set of 19 values (Scott 85-103) was overprinted with a white trident in a black shield and the letters Z.U.N.R., an abbreviation for the Western Ukrainian National Republic. Only a small number of these issues ever entered postal circulation.
The last Stanislaviv issue, consisting of nine values in two stamp series (Scott 54-55 and 75-81), was printed between 9 May and 12 May 1919, and carried the surcharge Poshta Ukr. N. Rep. and the Ukrainian monetary name, "hryvni" and "hryven."
Two additional stamp sets were printed for Western Ukraine at the Vienna State Printing Office but but became available after the Polish occupation of Galicia (July 1919) and, therefore, never were circulated. The first set, printed in two colors, consisted of five values and depicted the coats of arms of: United Ukraine, the trident; Kiev, the Archangel Michael; and Lviv (and Galicia), the lion. The second set of twelve values and the same coats of arms but with changes in the stylization and not all the symbols appeared on one stamp. Each emblem was printed separately on four stamps of the set. Imperforate varieties of this set also are known.
The first regular air mail service in the world was the Budapest-Vienna- Krakow-Lviv line which functioned from 31 March to 15 October 1918. A later extension of this line to Kyiv via Proskuriv (late June to mid-October 1918) made the route the world's first regular international air mail line. Another service, the Budapest-Vienna-Krakow-Lviv line, functioned briefly from 4 July to 23 July 1918. A few letters from Budapest also were carried as far as Kyiv. For both of there services, special air mail stamps were issued by overprinting existing Austrian postal designs with "Flugpost" and Hungarian stamps with "Repulo Posta."
A rival communist government, the Ukrainian Soviet Socialist Republic, was proclaimed in December of 1917 but was not able to make consistent headway in Ukraine until 1919. Postwar anarchy caused by civil war and inflation necessitated the provisional revaluation of low-value Russian kopek stamps to 100 times their original face value during March of 1920. The Kharkiv post office revalued various trident-overprinted provisionals with "RUB" (for ruble) at this time. Two years later (February 1922), the Kyiv post office surcharged values in the thousands of rubles onto remainders of Russian Postal Savings Bank stamps.
In 1923, the government of the Ukrainian SSR issued a set of four semi-postal stamps entitled "Famine Relief," since the surcharge on the stamps was earmarked to aid famine victims. This set circulated briefly in several cities from 25 June to 15 July and was the only regular postal issue ever released by the government of the Ukrainian SSR (Scott B1-B4 are unwatermarked, B5-B8 are watermarked.
German Occuption
In 1941, Germany overprinted its eighteen-stamp definitive set with a single- line black overprint "UKRAINE" for use in the occupied territory of Ukraine. These overprints were in postal circulation until late 1944 when most Ukrainian territory was recaptured by Soviet troops. Some attempts were made by local Ukrainian authorities under German occupation to issue postage stamps. Local emissions appeared in Sarny, Horokhiv, and Kamianets-Podilskyi, among others. German authorities soon turned against any such developments, and the local issues were banned.

Part of the Austro-Hungarian Empire until the end of World War I, Carpatho- Ukraine was administered by Czechoslovakia until 1939. In March of that year, a national assembly meeting in Khust proclaimed Carpatho-Ukraine an independent state. On the date of proclamation, 15 March 1939, a single stamp was released. It consisted of the inscription "Carpatho-Ukraine" on the 3-koron Czechoslovakia stamp depicting the wooden church at Yasinia. Carpatho-Ukraine's independence was short-lived and the territory was administered by Hungary until late 1944 during which time Hungarian stamps and postmarks were used.
In October 1944, Carpatho-Ukraine was occupied by Soviet troops. Early the following month, the Czechoslovakian administration returned ot Khust and to the eastern provinces of Carpatho-Ukraine. There on 4 December 1944, it overprinted Hungarian stamps and postal stationery "CSP/1944". The initials stand for Czech-Slovak Post. Not long after (1 February 1945), a socialist Ukrainian National Council was established in the western provinces that overprinted Hungarian stamps "Transcarpathian Ukraine Post". Four different types of overprints were used.
Seeking to further enhance its claim to Carpatho-Ukraine, the Ukrainian National Council issued a series of definitive issues. The first set of three stamps was released in May 1945. The second definitive set, consisting of six stamps, was issued in June 1945. Two additional stamps of the same design were released the following September, but had the year 1945 incorporated into their design. In June on 1945, in an agreement between the Soviet Union and Czechoslovakia, the latter agreed to give up the eastern provinces of Carpatho-Ukraine. The entire territory was incorporated into the Ukrainian Soviet Socialist Republic on 15 November 1945.
Ukraine resumed issuing stamps on 1 March 1992 and has followed a fairly conservative stamp release policy since. Until the middle of 1994, all of Ukraine's stamps were prepared abroad, either in Canada, Russia, Austria, or Hungary. Since 1995, virtually all stamps have been printed at the Kyiv Polygraphic Concern, also known as "Derzhznak."
A high inflation rate during Ukraine's early years of independence caused stamp values to soar. Whereas the first stamps of of 1992 were inscribed 15 kopiok, by 1996 the values on some issues had reached 100,000 karbovantsiv. In 1994, non-denominated stamps (showing ethnographic scenes, were released with assigned rates, e.g. for domestic correspondence or for overseas air mail letters. Pegged to the US dollar, the values of these stamps were adjusted weekly to reflect exchange rate variations.
Inflation also played havoc with official postal tariffs. Through the first four and one half years of independence, i.e. through 1995, postal rates underwent 10 major upward adjustments.
On 2 September 1996, Ukraine switched to a new currency, the hryvnia; it was decreed to be 100,000 times the value of the severely deflated karbovanets. By November, stamps appeared denominated in the new currency.
During 1992 and 1993 (and in some instances 1994 and 1995) various locales in Ukraine found themselves short of postage stamps or stuck with unusable old Soviet stamps or stationery. These local post offices were forced to prepare provisional stamp issues as well as provisional surcharges on postal stationery. Research on these many provisional releases as well as on overprints of former Soviet stamps and on the plethora of other postal markings from this time period is ongoing. To date, many hundreds of local provisional stamps have been identified from dozens of locales.
In recent years, Ukraine has released several dozen stamps annually. In general, these issues have been of increasing beauty and sophistication. Almost all new issues contain fluorescent tags, most applied in unique shapes or patterns. The scope and diversity of this tagging is unprecedented and reveals an entirely new stamp characteristic for Ukraine collectors.
All of modern Ukraine's stamp issues (from 1992 onward) may be viewed on Bohdan Hrynyshyn's Ukrainian Electronic Stamp Album, which also does a good job of keeping up with all of Ukraine Post's latest releases.
Baillie, Ian L.G. Ukraine: The Shagiv Issues. Bristol, England, 1963.
Bulat, John. Illustrated Postage Stamp History of Western Ukrainian Republic 1918-1919. Yonkers, NY: Philatelic Publications, 1973.
Bylen, Peter. "The Interim Issues of Soviet Ukraine, 1919-1923." Ukrainian Philatelist Vol. 39 No. 1 (61) 1992: 3-16.
Bylen, Peter. Western Ukraine. Ukrainian Philatelic Resources (UPR), 1. Westchester, Il: Ukrainian Philatelic Resources, 1995. 26 pp.
Bylen, Peter. Soviet Ukraine. UPR, 2. Westchester, Il: UPR, 1995. 34 pp.
Bylen, Peter. Carpatho-Ukraine. UPR, 3. Westchester, Il: UPR, 1995. 26 pp.
Bylen, Peter. Independent Ukraine 1918-1920. UPR 5, Westchester, Il: UPR, 1996. 118 pp.
Bylen, Peter and Kuzych, Ingert. "The Kyiv, Lviv, and Chernihiv Trident Overprints of 1992." Ukrainian Philatelist Vol. 42 No. 3/4 (69/70) 1994: 137-171.
Ceresa, R.J. Ukraine (Vol. II, Parts 1-26). Cambridge: privately published, 1979-1988. (A series of 13 books reviewing Ukrainian philatelic issues from the 1918-1923 period.)
Hugel, Lubomyr M. "Stamps of Carpatho-Ukraine of 1945." Ukrainian Philatelist Vol. 21 No. 36 (1974): 3-8.
Kotyk, Eugene. "On the History of the Stamps of the Western Ukraine." Ukrainian Philatelist Vol. 3 No. 4 (13) 1953: 55-59.
Kuzych, Ingert. "Ukraine's Pictorial Set of 1920: The Vienna Issue." Ukrainian Philatelist Vol. 37 No. 2 (58) 1990: 54-69.
Kuzych, Ingert. "Postage Stamps." Encyclopedia of Ukraine Vol. 4 (Toronto: University of Toronto Press, 1993): 161-164.
Kuzych, Ingert, ed. Introductory Handbook of Ukrainian Philately, a special edition of the Ukrainian Philatelist Vol. 40 No. 1/2 (63/64) 1993, viii + 116 pages.
Kuzych, Ingert. Ukrainian Postage Stamps: A Catalog of Issues From 1991-1995. UPR 6, Westchester, Il: UPR, 1996. 56 pp.
Kuzych, Ingert and Lemiski, Karen. Ukrainian Philatelist Index, 1951-1996, a special edition of the Ukrainian Philatelist Vol. 44 No. 3/4 (77/78) 1996.
Lobko, Hryhoriy. The Provisional Postage Stamps of Ukraine, 1992-1995 (Springfield, VA: Ukrainian Philatelic Resources, 2000), translation by Andrew O. Martyniuk.
Roberts, C.W. The Trident Issues of the Ukraine (Parts 1-5). Ilminster, England, 1953-66.
Seichter, Rudolf. Sonder-Katalog Ukraine(1918-20). Soltau, West Germany, 1966.
Spiwak, Paul B. "Ukrainian Currency Stamps of 1918." Ukrainian Philatelist Vol. 27 No. 43 (1980): 7-16.
Tkachuk, Jerry G. "First International Airmail Service in the World." Ukrainian Philatelist Vol. 33 No. 49 (1986): 3-9.
Zabijaka,Val. "The Ukrainian Field Post Issue of 1920." Ukrainian Philatelist Vol. 42 No. 1 (67) 1994: 4-26.
Copyright 2000 by Ingert Kuzych. All rights reserved.