Ukrainian Collectibles Society(Toronto)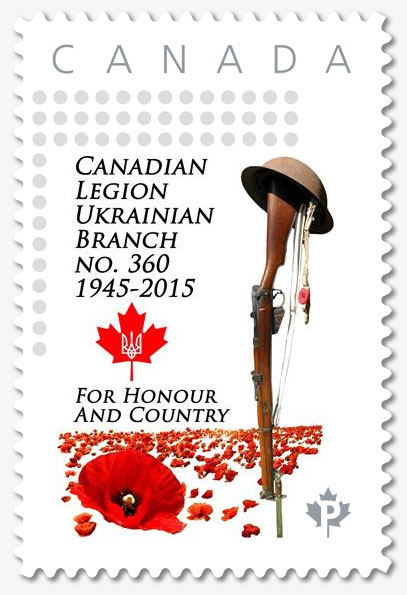 The Ukrainian Collectibles Society (Toronto) issued on November 14, 2015 a Canada Post Picture Postage stamp commemorating the Royal Canadian Legion Ukrainian Branch No. 360. CLUB 360 (an acronym for the Canadian Legion Ukrainian Branch) opened its doors in 1945 as a social club for Ukrainian war vet and in 1949 voluntarily joining the Royal Canadian Legion. Toronto's Royal Canadian Legion Branch 360 voted in 1953 to make Konowal its patron, Canada's only Ukrainian Canadian recipient of the Victoria Cross, which is the British Empire's highest military distinction. The Branch closed in 2005.
Many original members were in the Royal Canadian Air Force. The branch had a men's choir, sponsored music festivals, and supported publications on Ukrainians in Canada, and Ukrainian seniors' homes. The Branch published Konowal's biography, distributed copies of it to Canadian and international libraries and throughout Ukraine and erected commemorative plaques in British Columbia; Dauphin, Manitoba; Ottawa; Toronto at Branch 360; and Ukraine, in Konowal's home village. The last one was unveiled on August 22 in France, near Vimy Ridge, where Konowal earned the VC.

The first major engagement of the Canadian forces during World War I was during the Battle of Ypres in the spring of 1915. It was here that the first Ukrainian Canadians, all volunteers, made the ultimate sacrifice for Canada. Since then, Ukrainian Canadians have continued to serve their country Canada in war and peace. After the conclusion of World War II, bound by camaraderie, demobilized Ukrainian Canadian veterans began establishing branches of the Royal Canadian Legion: Branch 141 in Winnipeg, Mazeppa Branch 183 in Montreal, General Orlick Branch 522 in Hamilton, Norwood Branch 178 in Edmonton, St. Catharines Branch 502 and the Filip Konowal V.C. Branch 360 in Toronto.
The stamp, cancel and cachet honour the service and sacrifice of Ukrainian Canadians in the Canadian Armed Forces.
The image of the Poppy is used with the kind permission of the Royal Canadian Legion, Dominion Command. The Cenotaph pictured on the cachet is located at Hanover, Ontario.