Royal Canadian Legion Ukrainian Branch stamp
Details

Published on

24 December 2015

Written by UPNS Admin
Hits:

1028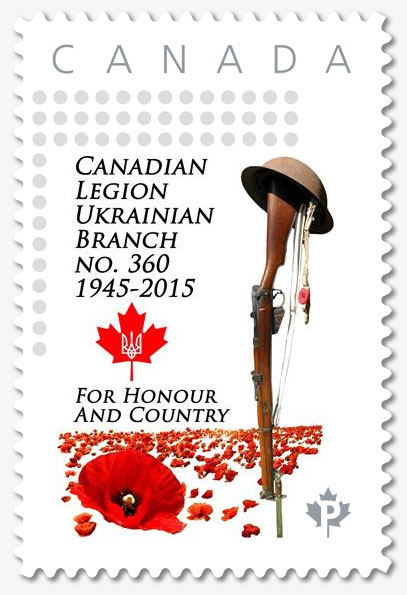 The Ukrainian Collectibles Society (Toronto) issued on November 14, 2015 a Canada Post Picture Postage stamp commemorating the Royal Canadian Legion Ukrainian Branch No. 360. CLUB 360 (an acronym for the Canadian Legion Ukrainian Branch) opened its doors in 1945 as a social club for Ukrainian war vet and in 1949 voluntarily joining the Royal Canadian Legion. Toronto's Royal Canadian Legion Branch 360 voted in 1953 to make Konowal its patron, Canada's only Ukrainian Canadian recipient of the Victoria Cross, which is the British Empire's highest military distinction. The Branch closed in 2005.

Corinphila Auction 202-204 Nov 18-21
Details

Published on

26 October 2015

Written by UPNS Admin
Hits:

697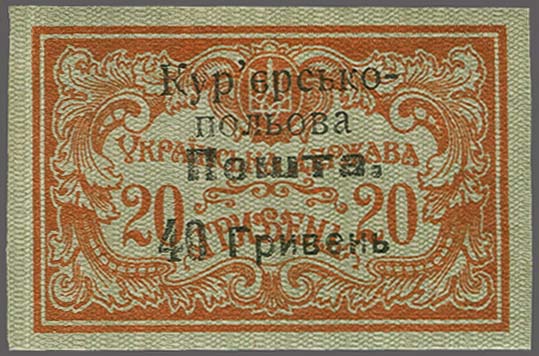 Within the past few days Corinphila Auctions in Zurich unveiled their latest three catalogs online for their 18-21 November 2015 auction. Included in catalog Number 202 Europa and Overseas are the rare Ukrainian items mentioned at the Ukrainpex meeting in Grand Rapids in August.
These are all the Ukrainian-related materials that will be available: under Ukraine, Lots no. 1793-1804; under Russia, Lots 1718-1719; and under Austria, Lot 1556. These include some really scarce Courier Field Post stamps, sheets, and a cover. Included is UKRAINE's RAREST STAMP (see Lot 1802) of which only two exist! There is also a virtually complete collection of "RUB" overprints, as well as examples of the super-rare Cherkasy Provisional (1920) stamps and interesting samples of the Twenty Hryven stamp of 1920.
https://corinphila.ch/en/_auctions/&action=showLots&auctionID=9&catalogPart=87&country=6515&show_all_lots=1
New 100-hryvnia note for 2015
Details

Published on

30 March 2015

Written by UPNS Admin
Hits:

3166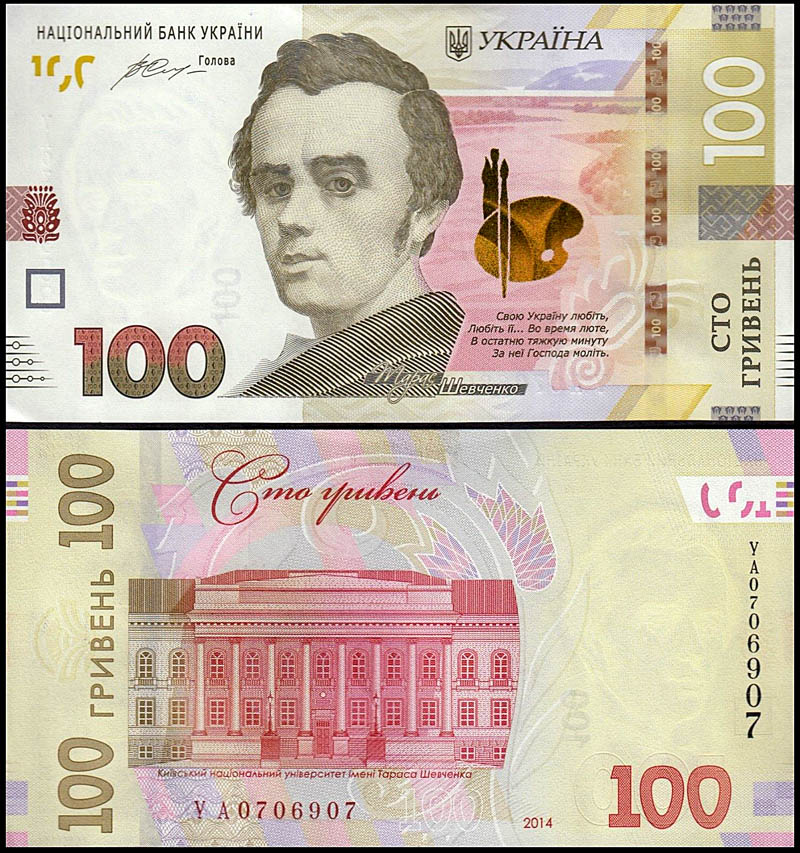 On March 9, 2015 the National Bank of Ukraine introduced into circulation a newly designed 100-hryvnia banknote with a number of advanced international security features, including a transparent 'window' and an optically variable SPARK feature which changes color depending on the viewing angle.
The new note is the dominant yellow-olive color as with the previous version of the bill and is printed on paper substrate containing a watermark of Taras Shevchenko and electrotype 100. The obverse features a portrait of Ukrainian national poet Taras Shevchenko, a painter's palette and brushes as a SPARK patch, and prose from his poem "Shall we ever meet again..."("Чи ми ще зійдемося знову") written in 1838.
Ukrposhta issues stamp for Nadiya Savchenko
Details

Published on

29 March 2015

Written by UPNS Admin
Hits:

4003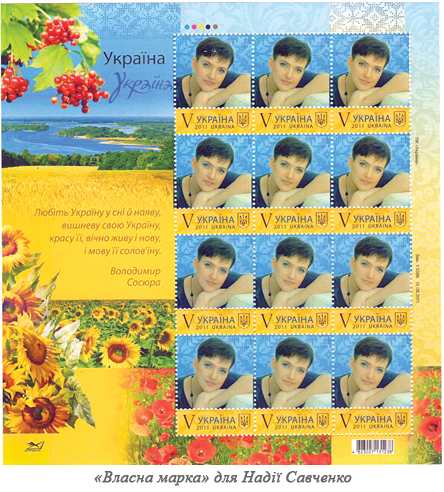 "Ukrposhta" issued a personal postage stamp of Nadiya Savchenko which was mailed to her together with a letter expressing their support.
"We are very worried about the fate of our Hope, because she is an example for all of us. As Shevchenko said "Boritesia - you will win!". She's not just a pilot and our compatriot, first of all, she is a woman who should not suffer like that... We would like to see her soon on our land healthy and smiling! .." - commented on the release of the stamp acting General Director of "Ukrposhta" Ihor Tkachuk.
National Bank of Ukraine issues coins commemorating the Maidan protests
Details

Published on

20 March 2015

Written by UPNS Admin
Hits:

2668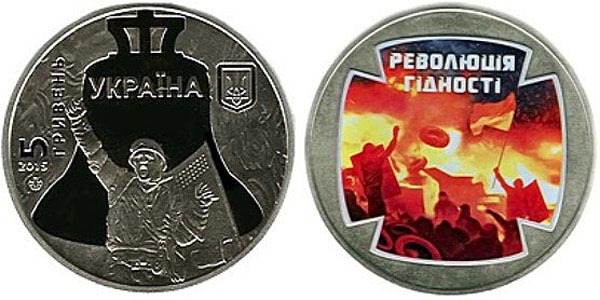 The National Bank of Ukraine announced on Feb 18, 2015 the launch of three commemorative coins, the Heroes of Maidan series, 2015, dedicated to last year's protests on Maidan that led to the change of power in Kyiv. The coins are called The Revolution of Dignity, Euromaidan and Heavenly Hundred. Each coin has a nominal value of 5 hryvnia and 50,000 were minted of each. The artists who composed the coins are Vladimir Taran, Alexander Kharuk, and Sergei Kharuk.