Australian support for Ukraine
Details

Published on

19 December 2014

Written by UPNS Admin
Hits:

107
In the aftermath of the recent state visit to Australia by Ukraine's President Petro Poroshenko, the Ukrainian Collectibles Society (UCS) on Saturday, December 20, 2014 will release its first official postcard which underlines Australia's moral and financial support for Ukraine. The card quotes Australian Minister for Foreign Affairs, Julie Bishop. Cards are available for sale through normal local and internet channels by emailing your intended order to This email address is being protected from spambots. You need JavaScript enabled to view it. Once your email is received you will be sent an order form and payment instructions. The cost per card is AU $2.00 with all proceeds going to humanitarian and medical NGOs in Ukraine that support the ongoing struggle against Russian-backed terrorists.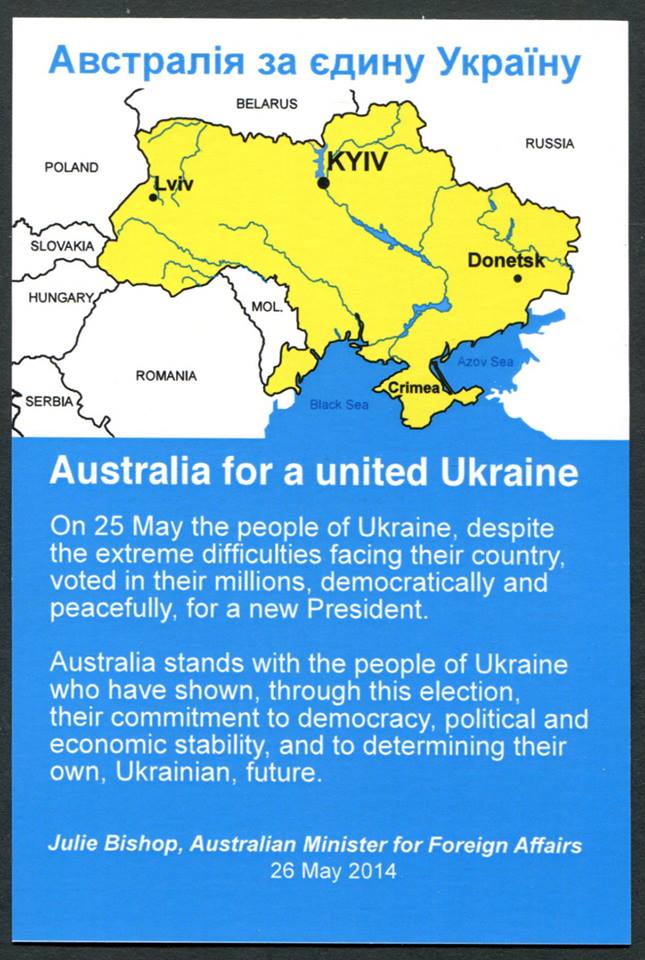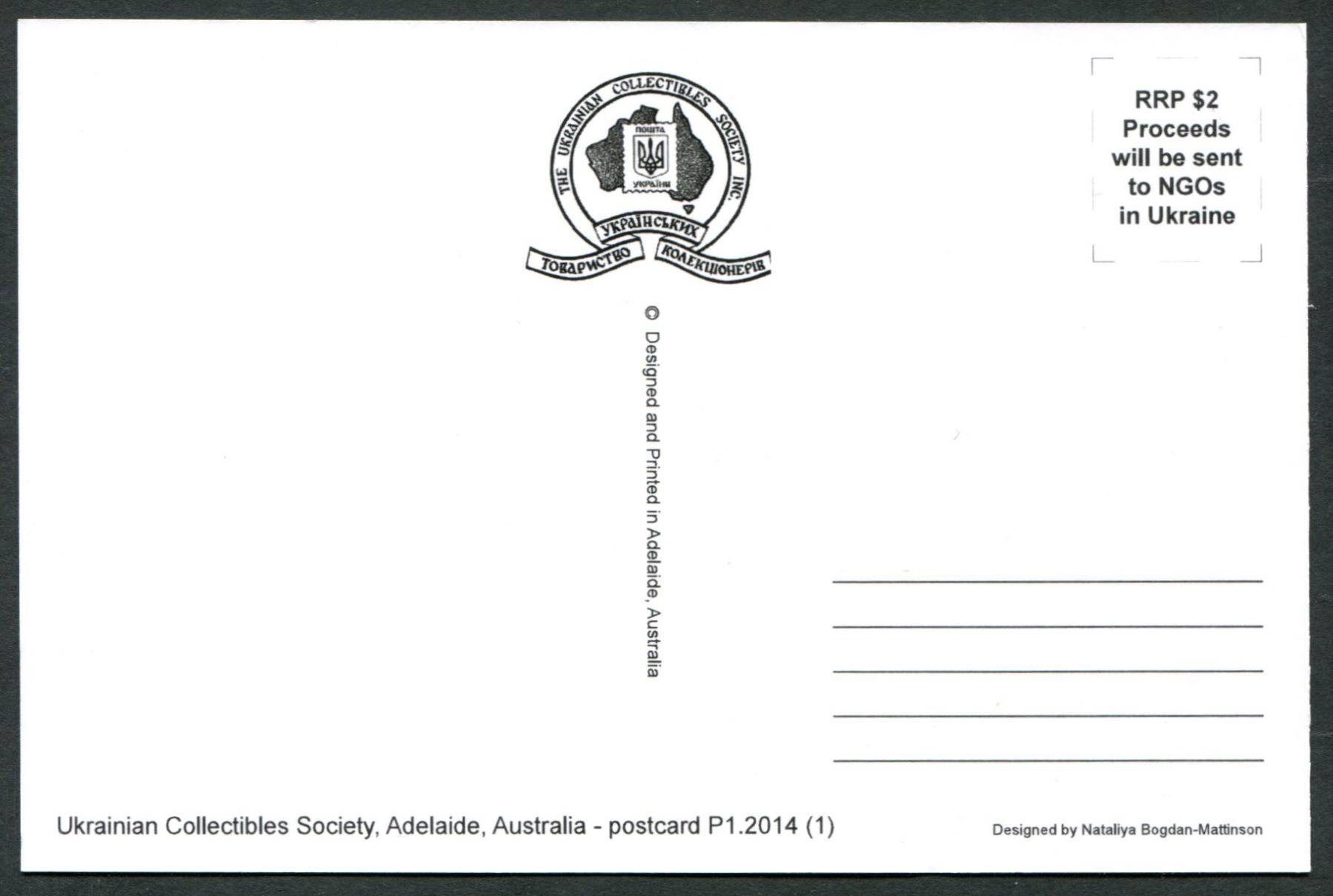 LEMBERG: Cosmopolitan Crownland Capital of the Austrian Empire
Details

Published on

16 September 2014

Written by UPNS Admin
Hits:

596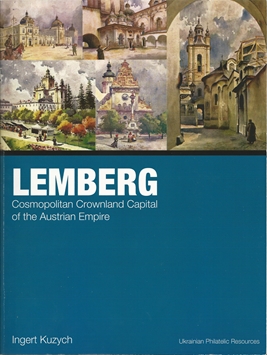 Ukrainian Philatelic Resources is proud to announce the release of its first full-color publication, the long-awaited record of Dr. Ingert Kuzych's diamond award-winning exhibit LEMBERG: Cosmopolitan Crownland Capital of the Austrian Empire.
This volume, however, is much more than just a reproduction of Dr. Kuzych's display – which is a chronicle of the postal history of Lviv/Lwow during the century and a half that it was under Austrian Habsburg rule (1772-1918). Introductory chapters present information on how the exhibit came to be assembled and on the evolution of the postal system in Central Europe in the three centuries prior to the Austrian period. (The latter chapter is an expansion of the "Before Lemberg" articles that appeared in Austria No. 182, Polonus Nos. 550-52, and Ukrainian Philatelist No. 109.)
Read more: LEMBERG: Cosmopolitan Crownland Capital of the Austrian Empire
Ukrainepex 2014 - Nov 21-23
Details

Published on

16 September 2014

Written by UPNS Admin
Hits:

404
Mark you calendar now to be part of this wonderful event. This year Ukrainepex 2014 will held in conjunction with CHICAGOPEX held November 21-23 at the Westin Chicago Northwest, 400 Park Blvd, Itasca, Il. The show will host a Philatelic Exhibition, a Philatelic Literature Exhibition, a Regency-Superior auction, and a Dealer Bourse.

This year the Polonus Philatelic Society, the International Phillipine Philatelic Society, the US Possessions Philatelic Society, the Ukrainian Philatelic and Numismatic Society and the Canal Zone Study Group, will all hold their annual conventions at CHICAGOPEX this year. The CHICAGOPEX Awards Banquet will be at the show hotel on Saturday evening, Nov. 22; advance reservations are required. Information on all CHICAGOPEX 2014 functions, including the banquet, scheduled meetings, participating postal administrations, and exhibit prospectus and application will be available on the Chicagopex Show website.
A UNIQUE OPPORTUNITY
Details

Published on

03 August 2014

Written by UPNS Admin
Hits:

229
The recent discovery of some out-of-print back issues of Ukrainian Philatelist has enabled the virtual reconstruction of a 25-year run (1986-2010) of the journal (nos. 49-104). (Only two issues from the late 1990s (nos. 79 and 81) are missing.) That's 54 issues plus several supplements, which accounts for over 70% of all the pages in Ukrainian Philatelist during its first six decades (1951-2010)! (Many of the early issues of Ukrainian Philatelist from 1951 to 1985 were very slim and generally written in Ukrainian.)
This is a tremendous opportunity for a Ukrainian philatelic researcher.
The price for this set is only $150us (that's less than $3/issue) plus $25 shipping to a US destination (arrangements can be made to ship abroad, but postage would be considerably higher). Only one set is available on a first come, first served basis.
Contact: Ingert Kuzych, Ukrainian Philatelic Resources, P.O. Box 3, Springfield, VA 22150 USA or at: This email address is being protected from spambots. You need JavaScript enabled to view it.
2014 EUROPA Competition
Details

Published on

03 August 2014

Written by UPNS Admin
Hits:

318
PostEurop is proud to present the 2014 Europa stamps entries for the theme "National Musical Instruments". Till 31 August 2014, here is your chance to vote for the most beautiful Europa stamp in 2014. Please vote for your favorite. Ours of course is Ukraine! Vote here http://www.posteurop.org/StampContest