UPNS Stamp Meet "Zustrich 2017" - May 5-7
Details

Published on

02 March 2017

Written by UPNS Admin
Hits:

604
Mark your calendars! "ZUSTRICH 2017" is being held on Saturday, the 6th of May at the Ukrainian Homestead just outside Lehighton, PA. A few members arrive Friday after 6pm to catch up with friends and rest after a long trip.
Although the resort is busy during the summer with many planned functions, this weekend is ours to enjoy. Zustrich is an annual reunion for many familiar faces in a very informal setting and for first timers an opportunity to make new friendships. A few of our members are even accompanied by their wives who enjoy meeting the other philatelists! The resort grounds are wonderful for walking around during spring while the great tourist town of Jim Thorpe is just a few miles away and is a great place to see.
Presentation: Ukrainian Provisionals 1992 to 1995
This is a 'voiced-over powerpoint' presentation that is about 2½-hours. Each given slide is different in length as the result of content explanation.
Why the Need for these Provisionals? Primary reasons: a) inadequate supply of national issues due to lack of facilities; strategic USSR assets were 'centralized'; thus, no modern and secure mint and print facilities in Ukraine; b) inadequate distribution network to all post offices; system had been Russia-centred for several decades; it now had to be reconfigured to Ukraine; Secondary reasons: c) the need to repatriate what had been a russified system; d) inflation-hyperinflation; at the very first minute of 02 January 1992, Ukrainian denomination was 8-to-1; but on 05 December 1993 it was 12,600-to-1, and by 09 December 1994 110,000-to-1. Yikes, and given this 'trend', there was a dramatic effect on the postal system and all of its 'adjuncts'! However such variables, otherwise deleterious, resulted in an interestingly complex postage system and stamp production routine during this period.
The Ukrainian Museum marks Ukraine's independence anniversary with two exhibits
Details

Published on

11 September 2016

Written by UPNS Admin
Hits:

1086
The Ukrainian Museum in New York City is marking two significant chapters in Ukraine's modern history – 25 years since its declaration of independence in 1991 and the approaching centennial of the liberation struggle and short-lived independence in the early 20th century – with two parallel exhibitions.

In Metal, On Paper: Coins, Banknotes, and Postage Stamps of Independent Ukraine, 1991-2016 is curated by Yuri Savchuk, Ph.D., senior research associate at the Institute of History of Ukraine, National Academy of Sciences of Ukraine. The Ukrainian Museum organized this exhibition in partnership with the National Bank of Ukraine, Ukrposhta and the Institute of History of Ukraine.
Money, Sovereignty and Power: The Paper Currency of Revolutionary Ukraine, 1917-1920 is curated by Bohdan Kordan, professor and director of the Prairie Center for the Study of Ukrainian Heritage (PCUH) at St. Thomas More College, University of Saskatchewan. This traveling exhibition was organized by PCUH in cooperation with the Ukrainian Museum of Canada.
The exhibitions will be open to the public from September 11 through November 27.
Ukraine's Provisional Kyiv-Lviv-Chernihiv
Provisionals were a way that Ukraine supplemented an inadequate supply of national issues during 1992-1994. All of the provisionals stamp sets were in fact created locally (oblast, city). However, three of the overprinted sets achieved 'national status' almost as soon as they were issued, these being overprints of Kyiv, Lviv, and Chernihiv, aka the KLCs.
When Canadian Member of Parliament Borys Wrzesnewskyj attended Ukrainpex 2007, he indicated that he was involved with Kyiv's Borysfen print shop. The Borysfen print shop in 1992 was responsible for the completion of the original overprinted sets for Kyiv, Lviv, and Chernihiv. The presses originally came from Canada and Wrzesnewskyj had made videos of the journey to get them into Ukraine. There they were first used in their Kyiv 'underground' bunker to produce Ukrainian pro-independence and pro-democracy leaflets and posters. As it turns out, the naming of the print shop is attributed to the mother of the young man doing the overprints, being a "fan" or as they say in Ukraine "fen" of Borys.
Ukrainepex 2016 - Dec 2-4
Details

Published on

05 September 2016

Written by UPNS Admin
Hits:

1109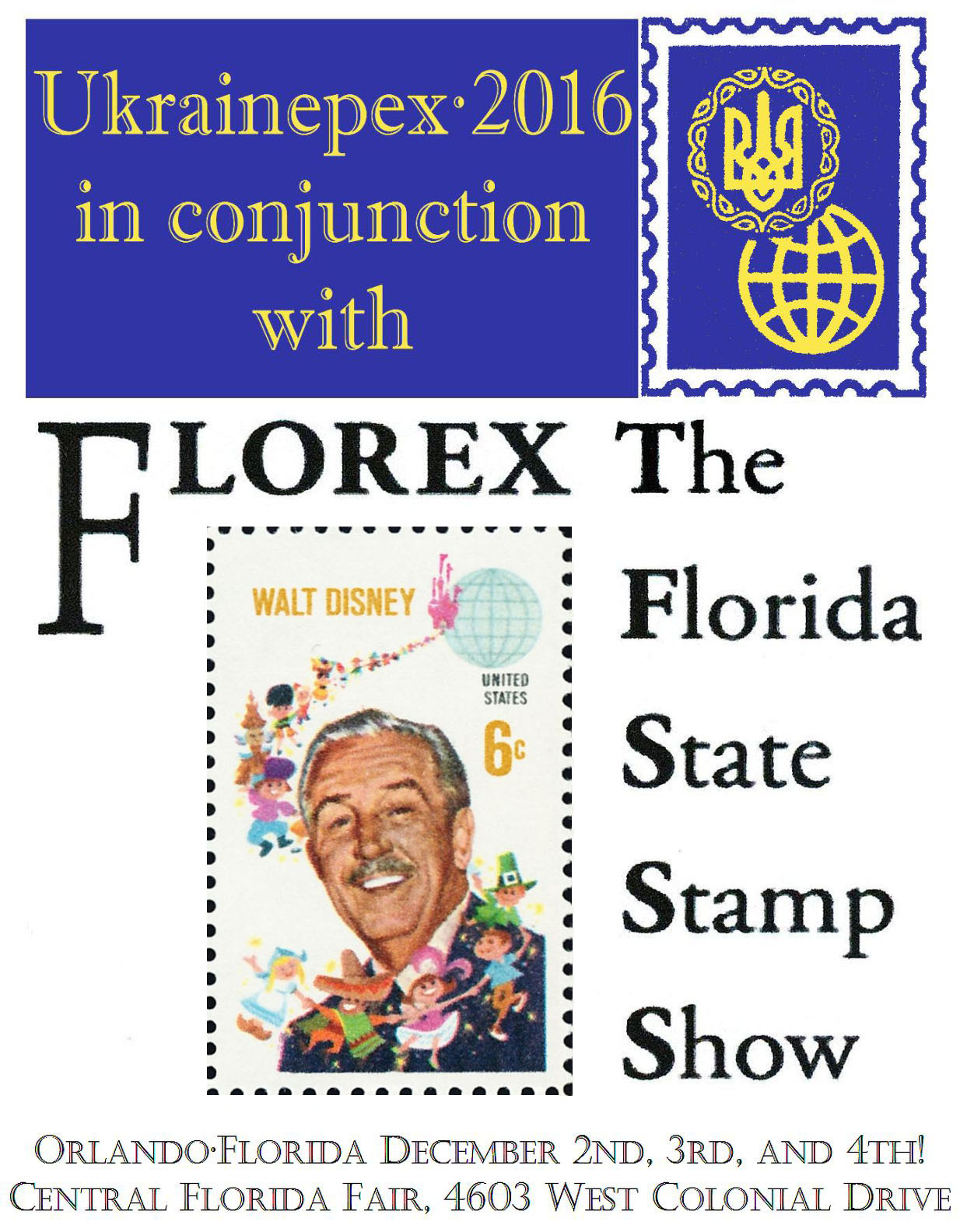 We are very excited to announce Ukrainepex 2016 will be held in Orlando, Florida in conjunction with FLOREX 2016 (The Florida State Stamp Show).

The show will be held Friday, December 2nd – Sunday, December 4th at the Central Florida Fairgrounds (Main Exhibit Hall), 4603 W. Colonial Drive, Orlando. The FLOREX website is: www.FLOREXStampShow.com. Exhibits are set up on December 1st between 4-6 P.M.