Australia Kashtan Heritage Stamp
Details

Published on

24 March 2014

Written by UPNS Admin
Hits:

48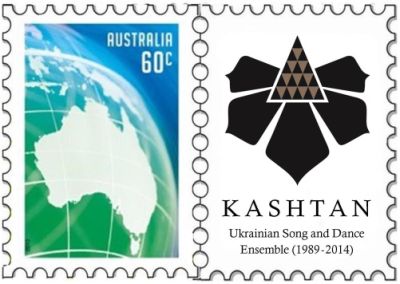 The Ukrainian Collectibles Society (UCS) of Australia announced the next stamp in the Australian-Ukrainian Heritage personalized stamp and envelope series. The stamp will be issued April 12, 2014. Last day to order is March 31, 2014.
Issue No. 10 - KASHTAN Ukrainian Song and Dance Ensemble Inc.
The Ukrainian Heritage Personalised Stamp and souvenir envelope series is designed to provide a tangible and collectible philatelic record of the history of various Ukrainian organisations in Australia since 1948, recognising and commemorating their respective unique contributions to Australia's Ukrainian and wider communities.
UPNS Stamp Meet 'Zustrich 2014' - May 3-4
Details

Published on

23 March 2014

Written by UPNS Admin
Hits:

64
Mark your calendars! "ZUSTRICH 2014" is being held on Saturday and Sunday, the 3rd and 4th of May at the Ukrainian Homestead just outside Lehighton, PA. A few members arrive Friday after 6pm to catch up with friends and rest after a long trip.
Although the resort is busy during the summer with many planned functions, this weekend is ours to enjoy. Zustrich is an annual reunion for many familiar faces in a very informal setting and for first timers an opportunity to make new friendships. A few of our members are even accompanied by their wives who enjoy meeting the other philatelists! The resort grounds are wonderful for walking around during spring while the great tourist town of Jim Thorpe is just a few miles away and is a great place to see.
Ukrainian Philatelist #109 Image Closeups
Ukrainian Philatelist #109 (©2013) published an article titled Military Free of Postage Hand-Stamps, page 32. This article was a compilation of material and information supplied by Roman Dubyniak, Peter Cybaniak, and Mark Stelmacovich. Most recently, Jerry Tkachuk submitted a further bogus cover in addition to that which I owned. Supplied here in the 'UPNS members' access part of our website are the scans that were part of this article, in the case that our members would like to examine these items as such. The several scans that were part of the 'Contemporary Ukrainian Imperforates' article are also included herein as such, and more!
Ordering Senator Yuzyk Stamp
The Canada Post Picture Postage stamp honouring the last Senator Paul Yuzyk is selling briskly. Order your sheet, booklet or FDC before the limited quantity runs out. Download the order form and either email your order to This email address is being protected from spambots. You need JavaScript enabled to view it. or mail it to the address on the form. This stamp was announced by Senator Andreychuk in the Senate of Canada last Nov 7 and a framed copy of the sheet was presented to the Minister of Multiculturalism Jason Kenney as well as the Embassador of Ukraine to Canada. This Picture Postage stamp is not available at Canada Post offices and must be ordered directly from the Ukrainian Collectibles Society (Toronto).
Release of Stamp Honouring Paul Yuzyk, Father of Multiculturalism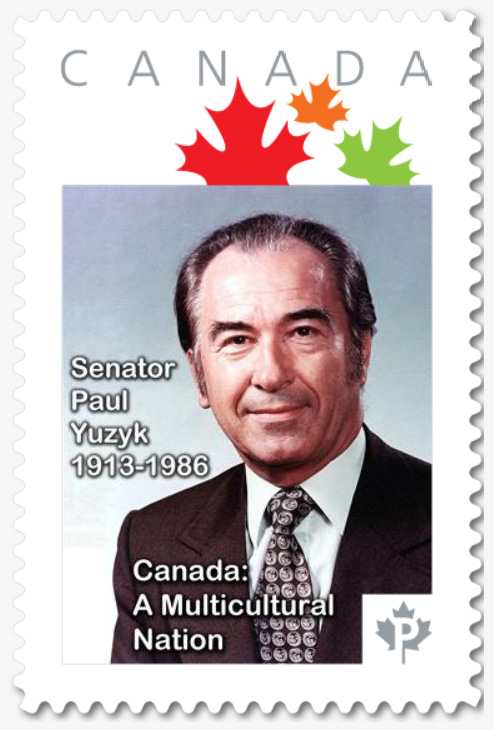 On Thursday, October 24, the release of a new stamp commemorating the late Honourable Paul Yuzyk was celebrated at the Senate of Canada.
"I am proud to welcome the release of a stamp commemorating this great Canadian," said Senator Raynell Andreychuk, who hosted the ceremony. "The principle of 'unity in diversity,' which Senator Yuzyk helped transform into policy, is one of our great strengths and the envy of others around the world."
Read more: Release of Stamp Honouring Paul Yuzyk, Father of Multiculturalism