Ukrainepex 2015 - Aug 20-23
Details

Published on

09 July 2015

Written by UPNS Admin
Hits:

268
Mark you calendars now and plan to attend this year's exciting society event. Ukrainepex 2015 will be held in conjunction with the APS StampShow from August 20-23 at the DeVos Place Convention Center, 303 Monroe Ave., NW, Grand Rapids, Michigan. The show will host 110+ dealers, nearly 15,000 pages of exhibits, public auction, first day ceremonies, 50 societies and more! UPNS will have a society table so please do come and help man the table. This is a wonderful opportunity to meet other fellow collectors. Two of our members are exhibiting this year - Mark Stelmacovich and Bohdan Nehaniv. We wish them success and gold.
Information on all APS StampShow functions, including the banquet, scheduled meetings, participating postal administrations, and exhibit prospectus and application are available on the APS StampShow website.
New 100-hryvnia note for 2015
Details

Published on

30 March 2015

Written by UPNS Admin
Hits:

1286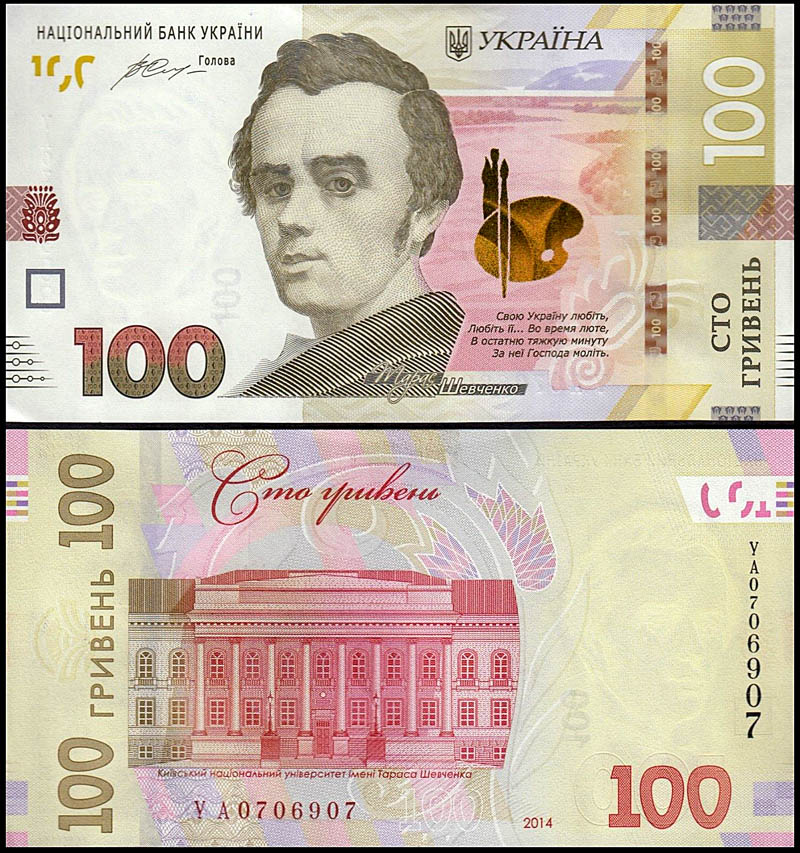 On March 9, 2015 the National Bank of Ukraine introduced into circulation a newly designed 100-hryvnia banknote with a number of advanced international security features, including a transparent 'window' and an optically variable SPARK feature which changes color depending on the viewing angle.
The new note is the dominant yellow-olive color as with the previous version of the bill and is printed on paper substrate containing a watermark of Taras Shevchenko and electrotype 100. The obverse features a portrait of Ukrainian national poet Taras Shevchenko, a painter's palette and brushes as a SPARK patch, and prose from his poem "Shall we ever meet again..."("Чи ми ще зійдемося знову") written in 1838.
Ukrposhta issues stamp for Nadiya Savchenko
Details

Published on

29 March 2015

Written by UPNS Admin
Hits:

1274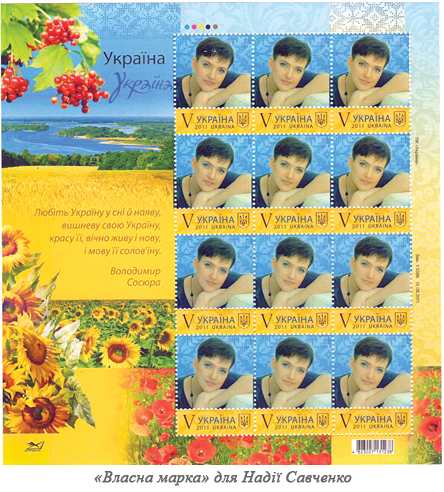 "Ukrposhta" issued a personal postage stamp of Nadiya Savchenko which was mailed to her together with a letter expressing their support.
"We are very worried about the fate of our Hope, because she is an example for all of us. As Shevchenko said "Boritesia - you will win!". She's not just a pilot and our compatriot, first of all, she is a woman who should not suffer like that... We would like to see her soon on our land healthy and smiling! .." - commented on the release of the stamp acting General Director of "Ukrposhta" Ihor Tkachuk.
National Bank of Ukraine issues coins commemorating the Maidan protests
Details

Published on

20 March 2015

Written by UPNS Admin
Hits:

1068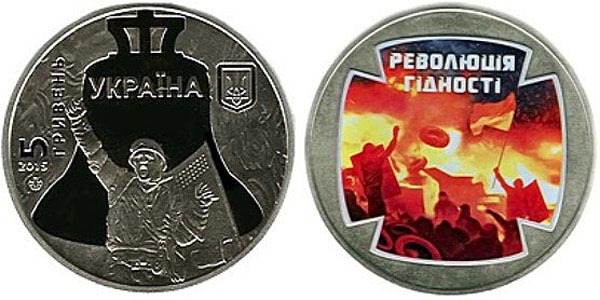 The National Bank of Ukraine announced on Feb 18, 2015 the launch of three commemorative coins, the Heroes of Maidan series, 2015, dedicated to last year's protests on Maidan that led to the change of power in Kyiv. The coins are called The Revolution of Dignity, Euromaidan and Heavenly Hundred. Each coin has a nominal value of 5 hryvnia and 50,000 were minted of each. The artists who composed the coins are Vladimir Taran, Alexander Kharuk, and Sergei Kharuk.
Canada 100th Anniversary First Internment Camp Stamp
Details

Published on

06 March 2015

Written by UPNS Admin
Hits:

1018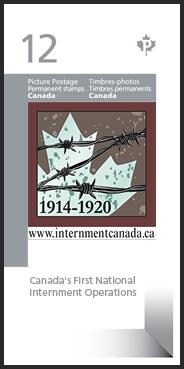 16 December 2014 - Ottawa - The Ukrainian Canadian Congress (UCC) is pleased to announce that a stamp commemorating the 100th anniversary of Canada's First National Internment Operations is available for purchase.
During the First World War, thousands of Canadians, many of them of Ukrainian heritage, were designated "enemy aliens" and incarcerated under the War Measures Act in 24 internment camps across Canada, not for what they had done but for who they were or where they had come from. The Endowment Council of the Canadian First World War Internment Recognition Fund (CFWWIRF), undertook to design a Canada Post Picture Postage Permanent Stamp as part of their efforts to ensure that the story of Canada's First National Internment Operations of 1914-1920 receive proper recognition among Canadians. The Ukrainian Canadian Congress has organized these stamps to be made available to the general public through a grant by the Endowment Council of the CFWWIRF.