Ordering Senator Yuzyk Stamp
The Canada Post Picture Postage stamp honouring the last Senator Paul Yuzyk is selling briskly. Order your sheet, booklet or FDC before the limited quantity runs out. Download the order form and either email your order to This email address is being protected from spambots. You need JavaScript enabled to view it. or mail it to the address on the form. This stamp was announced by Senator Andreychuk in the Senate of Canada last Nov 7 and a framed copy of the sheet was presented to the Minister of Multiculturalism Jason Kenney as well as the Embassador of Ukraine to Canada. This Picture Postage stamp is not available at Canada Post offices and must be ordered directly from the Ukrainian Collectibles Society (Toronto).
Release of Stamp Honouring Paul Yuzyk, Father of Multiculturalism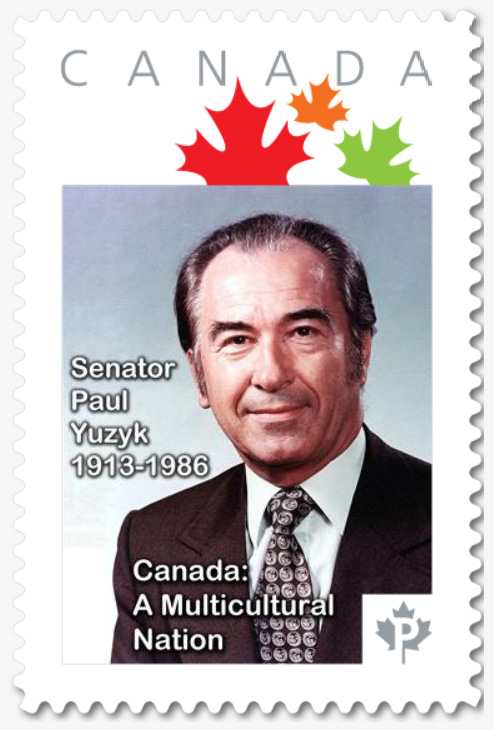 On Thursday, October 24, the release of a new stamp commemorating the late Honourable Paul Yuzyk was celebrated at the Senate of Canada.
"I am proud to welcome the release of a stamp commemorating this great Canadian," said Senator Raynell Andreychuk, who hosted the ceremony. "The principle of 'unity in diversity,' which Senator Yuzyk helped transform into policy, is one of our great strengths and the envy of others around the world."
Read more: Release of Stamp Honouring Paul Yuzyk, Father of Multiculturalism
The Rus' Coin Scandal
An article in the Journal "Museums of Ukraine" appeared February 9th this year bringing into question the legality of a Moscow auction featuring rare Kyivan Rus' sribnyk coins and hryvnia bars. Coins were minted in Rus from the first half of the 11th century on into the 1st quarter of the next century. During the reign of Grand Prince Volodymyr the Great (Old East Slavic: Володимѣръ Свѧтославичь, Old Norse: Valdamarr Sveinaldsson) gold and silver coins were minted, modeled on contemporary Byzantine currency of that time.
Пошта в Крайсгавптманшафті Чортків під німецькою займанщиною роках 1941-1944
Для повного й всестороннього ознайомлення зі сукупністю віддзеркалення дії пошт і поштової історії в Україні за ввесь час існування цих пошт, слід, звичайно, досліджувати спершу поодинокі періоди, на протязі яких ці пошти існували. Одним з таких є огляд пошти в Галичині під німецькою займанщиною в роках 1941-1944 (конкретно, в Дистрикті Галичина; тобто одному з Дистриктів Генеральної Губернії), частина якого, про пошту в Крайсгавптманшафті Чортків, пропонується ось тут.
Read more: Пошта в Крайсгавптманшафті Чортків під німецькою займанщиною роках 1941-1944
Hryvnia - the Most Beautiful Currency in the World
Details

Published on

21 February 2012

Written by UPNS Admin
Hits:

1131
The Ukrainian hryvnia (UAH) was voted by Swiss economists as the most beautiful currency in the world during the annual meeting of the aesthetics commission of the International Finance Bank (IFB) held mid-September 2008 in Switzerland.
The top five beautiful banknotes in order are: Ukrainian hryvnia, Australian dollar, euro, Bulgarian lev, and U.S. dollar.
A team of experts evaluated more than 50 national currencies taking into account the aesthetic design of banknotes, their solvency and security features as well as the historical significance of personalities and architectural structures depicted on the currency.
In addition, the bills were tested for durability. The Canadian dollar tore the easiest followed by the British pound and the Latvian lat. The hryvnia passed the durability test with flying colors.