New 100-hryvnia note for 2015
Details

Published on

30 March 2015

Written by UPNS Admin
Hits:

10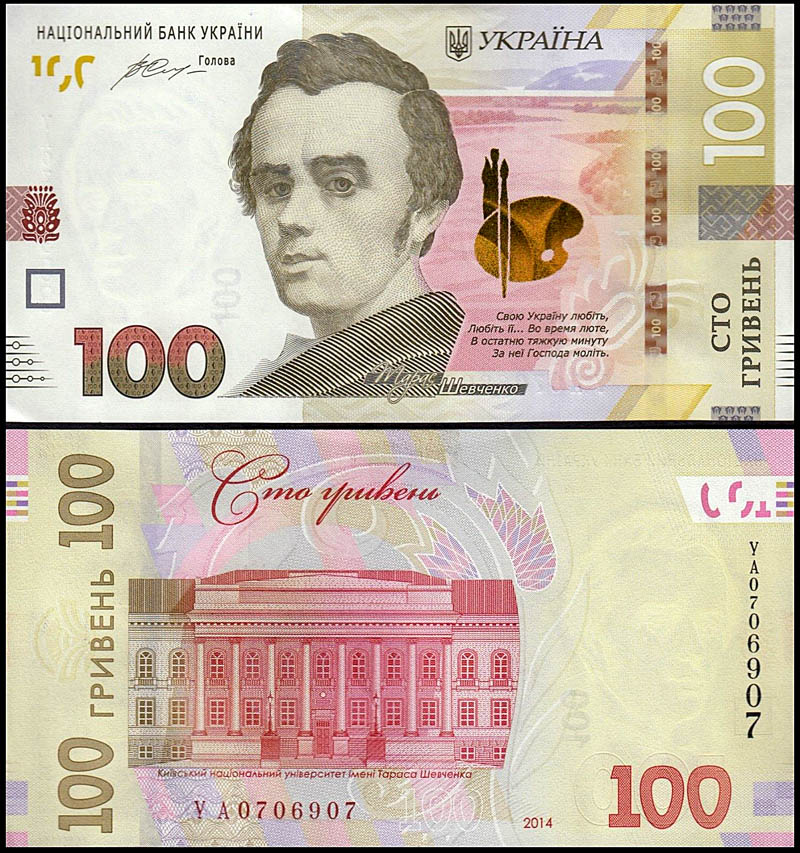 On March 9, 2015 the National Bank of Ukraine introduced into circulation a newly designed 100-hryvnia banknote with a number of advanced international security features, including a transparent 'window' and an optically variable SPARK feature which changes color depending on the viewing angle.
The new note is the dominant yellow-olive color as with the previous version of the bill and is printed on paper substrate containing a watermark of Taras Shevchenko and electrotype 100. The obverse features a portrait of Ukrainian national poet Taras Shevchenko, a painter's palette and brushes as a SPARK patch, and prose from his poem "Shall we ever meet again..."("Чи ми ще зійдемося знову") written in 1838.
Ukrposhta issues stamp for Nadiya Savchenko
Details

Published on

29 March 2015

Written by UPNS Admin
Hits:

38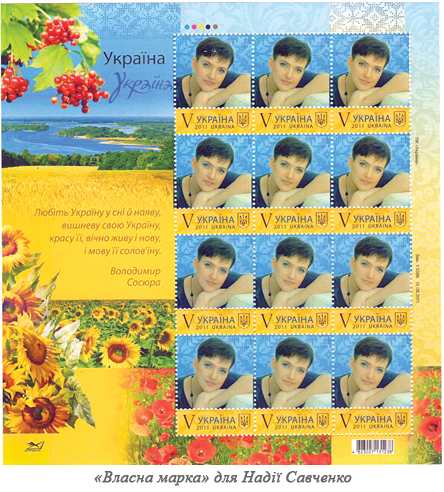 "Ukrposhta" issued a personal postage stamp of Nadiya Savchenko which was mailed to her together with a letter expressing their support.
"We are very worried about the fate of our Hope, because she is an example for all of us. As Shevchenko said "Boritesia - you will win!". She's not just a pilot and our compatriot, first of all, she is a woman who should not suffer like that... We would like to see her soon on our land healthy and smiling! .." - commented on the release of the stamp acting General Director of "Ukrposhta" Ihor Tkachuk.
National Bank of Ukraine issues coins commemorating the Maidan protests
Details

Published on

20 March 2015

Written by UPNS Admin
Hits:

44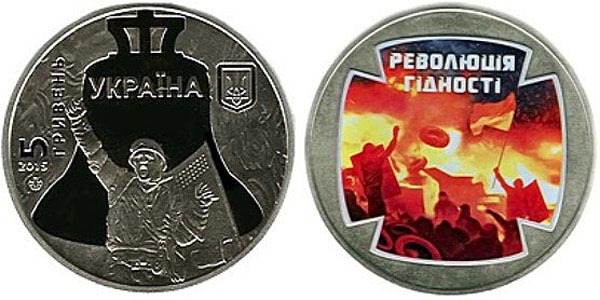 The National Bank of Ukraine announced on Feb 18, 2015 the launch of three commemorative coins, the Heroes of Maidan series, 2015, dedicated to last year's protests on Maidan that led to the change of power in Kyiv. The coins are called The Revolution of Dignity, Euromaidan and Heavenly Hundred. Each coin has a nominal value of 5 hryvnia and 50,000 were minted of each. The artists who composed the coins are Vladimir Taran, Alexander Kharuk, and Sergei Kharuk.
UPNS Stamp Meet "Zustrich 2015" - May 2-3
Details

Published on

12 March 2015

Written by UPNS Admin
Hits:

62
Mark your calendars! "ZUSTRICH 2015" is being held on Saturday and Sunday, the 2nd and 3rd of May at the Ukrainian Homestead just outside Lehighton, PA. A few members arrive Friday after 6pm to catch up with friends and rest after a long trip.
Although the resort is busy during the summer with many planned functions, this weekend is ours to enjoy. Zustrich is an annual reunion for many familiar faces in a very informal setting and for first timers an opportunity to make new friendships. A few of our members are even accompanied by their wives who enjoy meeting the other philatelists! The resort grounds are wonderful for walking around during spring while the great tourist town of Jim Thorpe is just a few miles away and is a great place to see.
2015 Ukraine Stamp Program
Details

Published on

08 March 2015

Written by UPNS Admin
Hits:

83
The UkrPoshta Stamp Program for 2015 features 8 blocks and 38 stamps.  This year Ukraine and Poland are issuing a joing issue.  Poland is no stranger when it comes to working closely with Ukraine on joint projects.  The last successful joint venture were the 2014 FIFA games and a number of beautiful stamps were issued as a result.  As well a last minute addition to the program is a stamp commemorating the anniversary of the Heavenly Hundred who gave their lives to depose a president during the 2014 EuroMaidan revolution.
Issue dates are subject to change by Ukraine Post.  The program is valid as of February 2, 2015.