Article
The founding family of Kyivan Rus'
It is my contention that Ihor is the true originator of the ruling Rus' lineage in Kyiv and that the name of the larger-than-life Riurik whose "Riurikide" appellation is given to the dynasty, should be expunged once and for all. It is almost certain that the real Riurik never visited Ukrainian lands and any Rus' territory that he may have acquired would have been in the far Baltic north, in present-day Russia. I believe that it is high time that Ukraine finally lays its rightful claim to its glorious medieval Rus' legacy by jettisoning the baggage brought on by the "Riurikide" label and by which Russian historians still lay claim to the Kyivan Rus' heritage.
The articles in this monarch series are illustrated, where possible, with related philatelic issues. Regrettably, no stamp issue of Ihor has ever been made, but a representation of him has appeared on a postcard.
Ihor: king of Kyiv, founder of dynasty
Despite being the husband of St. Olha and the father of Sviatoslav the Conqueror,relatively little is known about Ihor, the head of this illustrious family and the true founder of the dynasty that would rule in Rus' for some four centuries (Figure 1).
Most of the information we have about Ihor comes from the "Povist VremennykhLit" (PVL), or "The Tale of Bygone Years," a valuable historical source compiled in the early 12th century according to tradition, by the monk-chronicler Nestor. The PVL is based on earlier Kyivan and Novgorodian compilations and draws on contemporary Byzantine sources and includes texts of a number of Rus'-Byzantine treaties. The Povist is quite reliable and detailed in recounting events closer in time, to its editing, but for occurrences of Ihor's time some two centuries earlier, the chronology is less trustworthy and contains some major discontinuities. 1 We are fortunate that a number of additional references in other sources help fill in some more details about Ihor.
The traditional story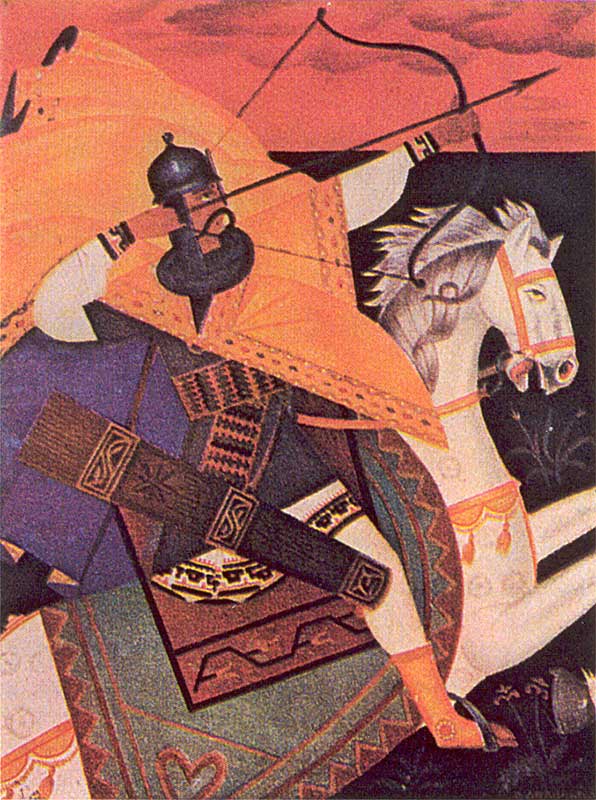 According to the PVL, Ihor was the son of the great Varangian (Viking) leader Riurik, who had been invited to rule over Rus' lands around the year 860. 2 Riurik is almost certainly the notorious Danish Viking adventurer Rorick who set himself up in the east Baltic area at about this time.3 The chronicles for the year 779 state that: "On his deathbed, Riurik bequeathed his realm to Oleh, who belonged to his kin, and entrusted to Oleh's hands his son, Ihor, for he was very young." 4 We know from Western medieval sources, however, that the Danish King Rorick must have been born .circa 800, 5 so for him to have fathered a son just prior to his death is unlikely.
Ihor is described as having played a very subordinate role to Oleh; his guardian even arranged his marriage. Little is recorded of Ihor until the entry for 903: "As Ihor grew up, he followed after Oleh, and obeyed his instructions. A wife, Olha by name, was brought to him from Pskov." For 907, the chronicle states that Oleh left Ihor as ruler in Kyiv while he conducted a campaign against Byzantium. 6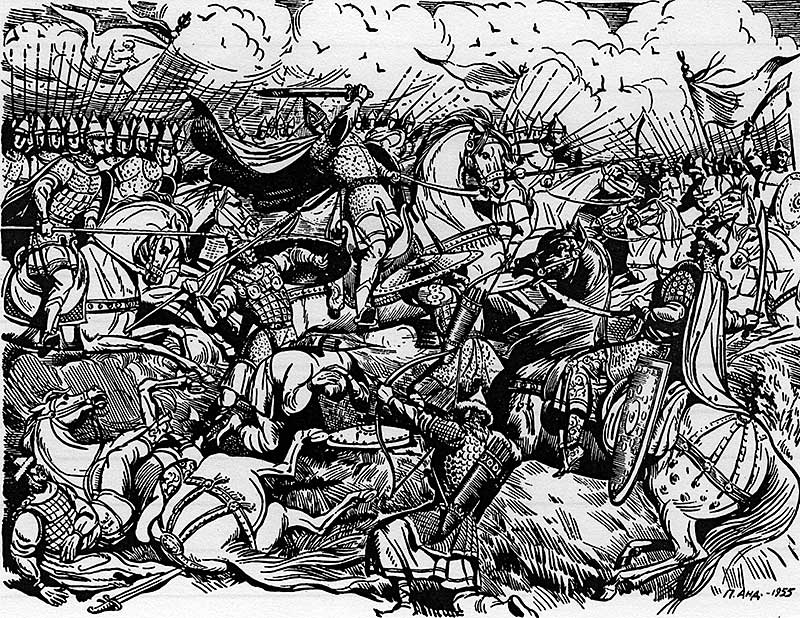 Nothing more is mentioned of Ihor until 913, when the chronicles state that he succeeded Oleh and began his reign. The following year: Ihor attacked the Derevlianians, an East Slavic tribe, and after conquering them he imposed upon them a tribute larger than Oleh's." In 916 the Pechenegs, migratory Turkic tribesmen, first entered into Rus'. Ihor reached an agreement with them and "they went on their way to the Danube" to raid Bulgaria. Five years later (920) they reappeared, and this time Ihor was forced to fight them (Figure 3). 7
There now follows a hiatus of 21 years in the record during which nothing is known of events in Rus'. When the narrative picks up again in 941 to record the events of the last years of Ihor's reign (he died around 945), the account is much richer in detail, in sharp contrast to the reporting of his early years. This striking difference in the timeline has caused more than a few historians to question the reliability of all texts pertaining not only to Ihor's early career, but to many of the events prior to 940. 8
There is also the fact that the PVL states (deja vu-like) that at his death Ihor left behind a young son, Sviatoslav, who "was but a child." 9 By this time, however, we know the records are accurate for the birth, since Sviatoslav is attested to in other writings from that time." 10 If the PVL is to be believed, a son born to Ihor in 942 or 943 would make the father at least 64 at the time of his birth (the chronicles state Ihor was born about 878) and his mother around 60. This chronology is highly suspect and not only for the late birth. The average medieval life span was only about 35 and probably about a decade or two longer for nobility. 11
A somewhat revised, but far more possible, chronology has Ihor (a Varangian leader) being born around 910 and not necessarily related to Rurik or Oleh in any way, conquering Kyiv about the year 935, 12 and marrying Olha about 940. His subsequent exploits as recounted in the PVL and in other sources would then follow very nicely and make more sense.
What about the gap in the timeline? The chronicler obviously had no information for the years 920 to 941, and probably as far back as 911. He more than likely made up the story of young Ihor being the scion of the famous, and by then legendary, Riurik in order to embellish the line of descent and to help bridge the gap in the years from 912 (Oleh's death) to ca. 940. The few campaigns recorded for Ihor in 913-915 and 920 echo similar events recorded earlier (expeditions against the Derevlianians are first mentioned in 883) 13 and for 945 and later, 14 and were clearly made up by the chronicler to "fill in" embarrassing lacunae. There is no compelling evidence to support the claim that Ihor, or the entire dynasty to follow him, was in any way related to Riurik/Rorik.
The so-called Riurikide Dynasty that ruled in Kyiv until 1240, and in Galicia-Volyn until 1340, should more properly be termed the Ihoride Dynasty.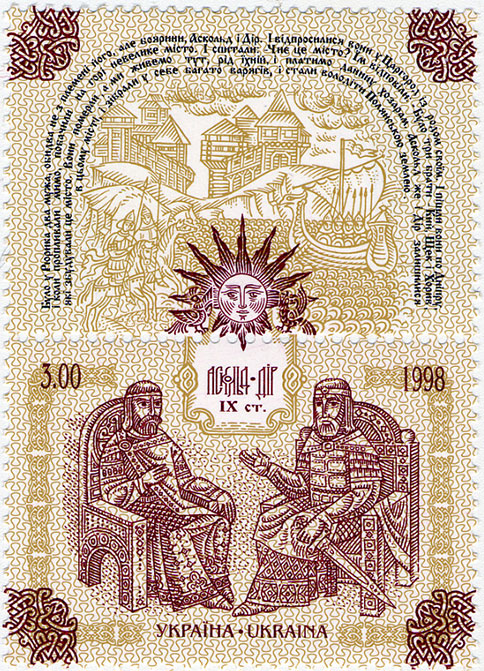 Some discussion is in order regarding Ihor's installation in Kyiv. The PVL mentions that it was Oleh, in the name of the infant Ihor, who usurped the leadership of Kyiv in 882 by killing the city's leaders, Askold and Dyr. An earlier version of the PVL, a compilation known as the Novgorod Chronicle (NPL), has a very similar story but it is a grown Ihor, with his "general by the name of Oleh, a man valiant and wise," who undertakes a campaign southward (no year is given) to secure the Dnipro River and arrive at the Kyivan hills. Inquiring as to who rules in Kyiv, they are told: "Two brothers, Askold and Dyr."
"Ihor and Oleh pretended to be just passing by, and having hidden themselves in the boats, they came out to the bank with a small retinue; and representing themselves as ... merchants, they called Askold and Dyr."
"As they both came down, Ihor's hidden warriors jumped out of the boats, to the bank. And Ihor said to Askold: 'Both of you are not kings, nor even of royal stock, but I am a king, and I am fit to reign.' They killed Askold and Dyr ... And Ihor set himself up as king in Kyiv." 15
Another historical source also mentions the capture of Kyiv. Jan Dlugosz's "Historia Polonica," a work most likely based on the chronicle "Peremyshlian Codex," which has not survived, does not mention Oleh at all; Ihor is the lone actor. The brief statement reads: "Ihor ... having attained adulthood, treacherously killed the Kyivan princes, Oszkald [Askold] and Dyr, who suspected no hostility on his part, and then occupied their principality and lands." 16
It would seem, then, that the compiler of the PVL reassigned Oleh, a contemporary of Ihor, to the previous generation in order to help fill out the chronicle of events during the latter decades of the ninth century and early part of the 10th. As we shall see below, however, there are other references that would seem to indicate these two personalities lived at the same time and Oleh could well have served as Ihor's commander-in-chief (voyevoda).
The ancient chronicles relate that Kyiv was taken from two Varangian boyars (nobles) Askold and Dyr (Figure 5); they themselves had wrested the city from the large eastern European empire of the Khazars 17 in about 860. 18 How true some of these statements are is difficult to know. Askold and Dyr may in fact have been Khazar vassals since evidence seems to indicate that the Khazars may still have ruled in Kyiv into the 930s. 19 Ihor took Kyiv from the Khazars (whose liegemen may or may not have been Askold and Dir) in about 935 and set about consolidating his rule.
The capture and control of Kyiv was a strategic coup. Beginning about the year 900, much of the focus of trade in
Eastern Europe
had shifted from the
Volga
River
water route to that of the comparatively empty Dnipro. Although there was an obstacle of nine rapids to be overcome (over an almost 70-kilometer stretch) in the lower reaches of the Dnipro River - as well as Pecheneg raiders to guard against during the arduous portage - the dangers were worth it to the Varangians and Rus' traders since this route was so much closer to their ultimate destination of Constantinople.
Additionally, the tithes and tolls on
Volga
River
traffic, imposed by the Bulgars and Khazars who controlled that river's passage, could be avoided by the new route.
20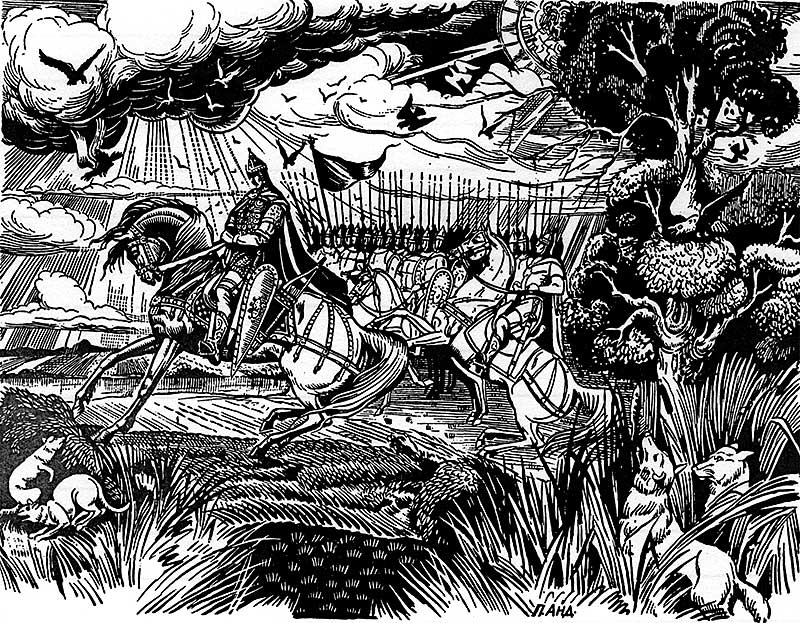 Up to this point the "history" of Ihor's rule is mostly informed speculation based on sparce and sometimes vague information; it stands in marked contrast to the many detailed reports about Ihor and his Rus' followers that are available for the years 941-945. Some of these sources list Inger (i.e., Ihor) as being the leader of the Rus' at this time, while others mention Helgu (Oleh). Since Oleh, as Ihor's general, conducted some of the Rus' campaigns, such citations are not necessarily contradictory. We will examine these references in more detail in part II of this article.
* * * * * * *
This article is updated from a version that first appeared in The Ukrainian Weekly Vol. 70 No. 40(6 October 2002): 12, 15.
1
The English translation of the PVL consulted for this article is that of Samuel Hazzard Cross and Olgerd P. Sherbowitz-Wetzor, "The Russian Primary Chronicle," Laurentian Text (Cambridge, Mass.: The Medieval Academy of America,
1
953), hereafter PVL. See Ohloblyn, O., "Chronicles" in Encylopedia of
Ukraine
, Vol. I (Toronto: University of Toronto Press,
1
984), pp. 462-463 for a complete survey of Ukrainian chronicles.
2 PVL, p. 59.
3 This identification was first made by Friedrich Kruse in a series of articles appearing in the Journal Ministerstva Narednego Prosvescheniya: "On the Origin of Rurik," Vol. IX (1836): 4373; "On the Boundaries of Normannia and on the Names of Normans and Rus'," Vol. XXI (1839); pp. 1-77; and "On the Relation of the Rus' Who Came to Spain in 844 and Plundered Seville, to Russia," Vol. XXI (1839), pp. 159-179.
4 PVL, p. 60.
5 Summaries of Riurik/Rorik's adventurous and turbulent life may be found in Belaiew, NT., "Rorik of Jutland and Rurik of the Russian Chronicles," Saga-Book of the Viking Society for Northern Research, No. 9-Ю (1920-1929); pp. 267-297, and in Vemadsky, George, "Ancient Russia" (New Haven: Yale University Press, 1943), particularly pp. 337-339 and 365-366.
6 PVL, p. 64.
7 PVL, p. 71. See Pritsak, Omeljan, "The Pechenegs: A Case of Social and Economic Transformation," Archivum Eurasiae Medii Aevi I (1975), pp. 211-235.
8 For example, Pritsak, in his "The Origin of Rus'," Vol. I (Cambridge: Harvard Ukrainian Research Institute, 1981) discounts all of Ihor's campaigns recorded in the PVL prior to the Byzantine expedition of 941.
9 PVL, p. 80.
10 "Leon Diaconus Caloensis, Historiae libri decern," Pt. 9, chap, xi, pp. 156-157.
11 "Life Span, Human," in Encyclopedia Britannica, Vol. 13 (Chicago: University of Chicago, 15th edition, 1965), p. 1101.
12 Golb, Norman and Pritsak, Omeljan, "Khazarian Hebrew Documents of the Tenth Century" (Ithaca: Cornell University Press, 1982), pp. 67-69.
13 PVL, p. 61.
14 PVL, pp. 78, 85. The PVL entries for 915 and 968 both state that the Pechenegs entered or invaded Rus' "for the first time." The earlier entry was most probably fabricated. Pecheneg attacks did not become troublesome for Rus until the latter half of the 10th and the first half of the 11th centuries.
15 "Novgorodskaia Pervaia Letopis Starshego I Mladskego Izvodov," ed. A. N. Nasonov (Moscow leningrad, 1950), p. 107.
16 "Ionnis Dlugossii Annales seu cronicae incliti Regni Poloniae," ed. J. Dabrowski Vol. I (Warsaw, 1964), p. 122.
17 The Khazars were a Turkic-speaking people who appeared in southeastern Europe after the expulsion of the Huns in the fourth century and lived in the area until late in the 11th century. During the seventh century they conquered some of the neighboring peoples and established the Khazar Kaganate, the first state in eastern Europe. The Kaganate reached its greatest extent in the late eighth century when it grew to encompass northern Caucasia, the Azov steppe, and most of Eastern Europe up to the Dnipro River. Although the Christian, Muslim and Jewish faiths co-existed peacefully on Khazar territory, it was Judaism that was established as the state religion in the early ninth century.
18 PVL, pp. 59-60.
19 Golb and Pritsak, "Khazarian Hebrew Documents," p. 71.
20 The shift in Rus' trade orientation is well described by Franklin, S. and Shepard, J. in Chapter 2 of "The Emergence of Rus' 750-1200" (London, Longman Group Ltd., 1996), pp. 71-111.