Article
Fragile Gems: Pysanky on Stamps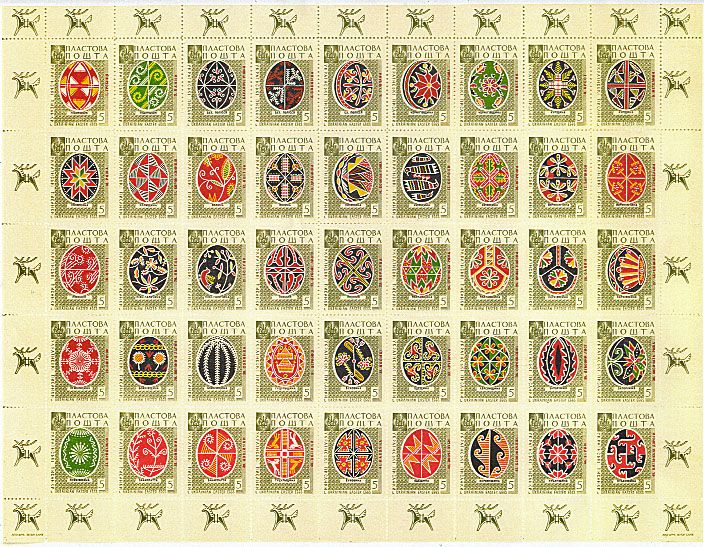 The 45 Ukrainian Easter eggs depicted on the stamps were created by pysanka expert Yaroslav Elyjiw to represent 23 ethnographic regions in Ukraine. The designs were then incorporated into stamps by Toronto artist Myron Lev and printed by Lito-Druk Zenon Elyjiw in five colors: deep red, green, yellow, olive, and black. This extraordinarily attractive series of stamps has been very widely used in egg decorating classes as a quick reference for many basic designs.
A great deal of information is conveyed on every "stamp" of the pane. In addition to the Plast symbol and the "Plastova Poshta" heading, the left side of every "stamp" proclaims "Ukrainski Pysanky" and the bottom inscription states "Ukrainian Easter Eggs." All of these design elements appear in olive ink.
All of the egg designs are multicolored; a designation in black appears under every egg to identify the region that the egg design represents. On the right, in red, the stamps are numbered and the name of the main design element is given, e.g., stars, crosses, butterflies, oak leaves, rose, wolves teeth, ladders, sunflower, etc.
In the border selvage, a stylized, olive-colored deer - drawn in the Hutsul style - is repeated numerous times.
Over the years, the original $2.25 value of this pane has appreciated tremendously. Today, it routinely sells for $30-$35 - when one can find it.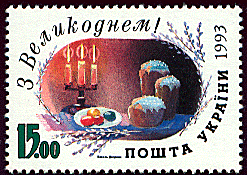 Since independence, Ukraine has depicted Easter eggs on stamps on only five occasions. The first occurred in 1993, not long after independence, and was Ukraine's first Easter stamp. Shown on the 15-karbovanets stamp is an Easter table setting with a lighted candelabra, "babky" (glazed Easter breads), pussy willow branches, and "krashanky" - Easter eggs that are simply decorated in a single solid color. Designed by V. I. Dvornyk, these stamps were printed in panes of 50 by the Austrian State Printing Office, because at the time Ukraine still did not have its own stamp production facilities. A total of 200,000 copies were produced.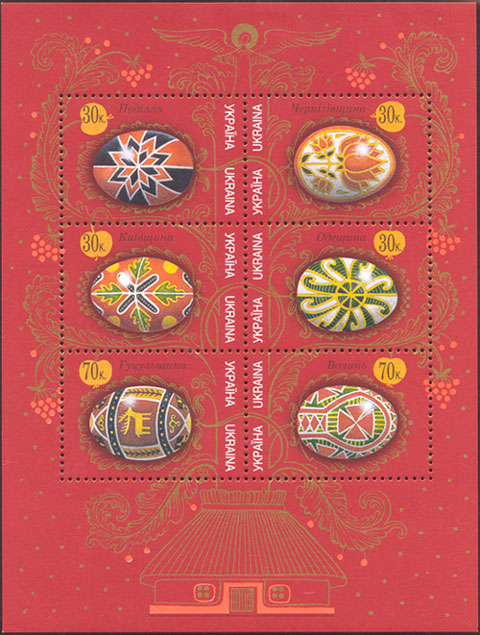 The second Easter egg issue was a spectacular souvenir sheet showing six pysanky surrounded by some traditional folk motifs in red and gold. Designed by Kateryna Shtanko, the sheet depicts eggs from various Ukrainian regions: Podillia (upper left, sun motif); Chernihiv (upper right, flower motif); Kyiv (left center, oak-leaf motif); Odesa (right center, sun pin-wheel); Hutsul area (lower left, elk and spruce tree motif); and Volyn (lower right, geometric design). The first four stamps of the sheet were all valued at 30 kopiok and the last two at 70 kopiok. Only 50,000 souvenir sheets were printed and their value too has appreciated over time. This pysanky souvenir sheet did very well in the Narbut Prize competition for the best philatelic design of 2000, finishing third in the balloting.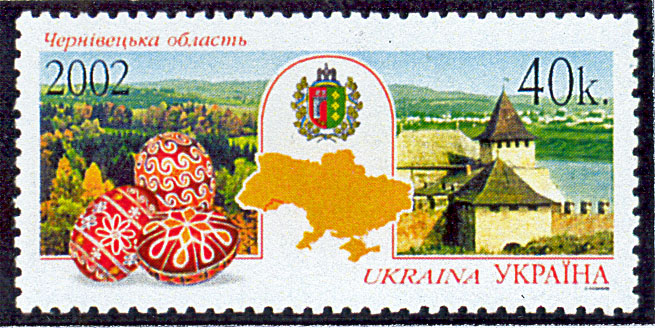 Two years later, a stamp from the series commemorating "Regions and Administrative Centers of Ukraine" prominently featured pysanky. The stamp honoring Chernivtsi oblast not only showed scenes of this area in southwestern Ukraine, but also conspicuously displayed three pysanky in the regional style. One million copies of this 40-kopiok stamp, designed by artist Oleksander Kalmykov, were produced.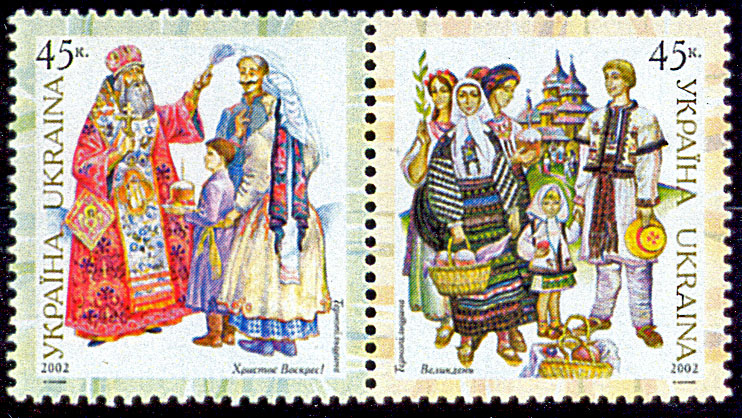 That same year, another stamp also showed pysanky. It was part of the last philatelic release of 2002 entitled "Ukrainian Folk Costumes". The stamp in the lower right of the souvenir sheet shows a group of villagers from the Ternopil region gathered for Easter. The little girl in the scene holds an egg and there are several shown in the basket at her feet. Whether these are true pysanky, or just colored krashanky, is impossible to determine. The folk costume stamps, each valued at 45 kopiok, were printed in pairs of two on individual panes (300,000 each) or with all six scenes together on a souvenir sheet (50,000 copies). The stamps' designer was Mykola Kochubei. Incidentally, the "Folk Costumes" stamps were the Narbut Prize winners as the finest philatelic issue for 2002.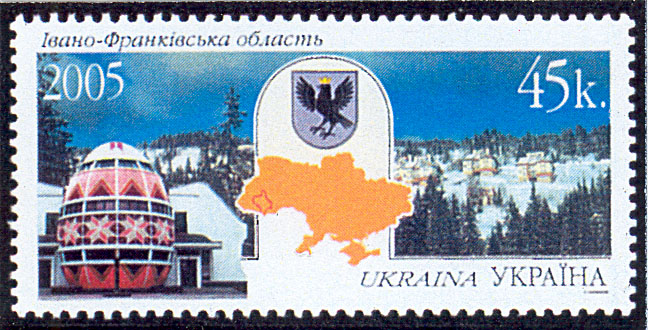 One of the final stamps in the "Regions and Administrative Centers" series, which ended in 2005, depicted Ivano-Frankivsk oblast, through which the Carpathian Mountains extend. The stamp showed a winter montane scene along with the façade of the Pysanka Museum, part of the Kolomyia Hutsul and Pokuttia Folk Art Museum, which features a gigantic pysanka. A total of 200,000 copies of this 45-kopiok stamp, again designed by artist Oleksander Kalmykov, were prepared.
* * * * * * *
This article is updated from a version that first appeared in The Ukrainian Weekly Vol. 72 No. 10 (7 March 2004): 10-11.